Just a week before moving to Oklahoma, I went one last time to my favorite hairdresser ever, had her chop my hair of as much as I could stand, and then hugged her & thanked her for always doing such a good job on my hair. Fast forward to now. My hair is in that awkward stage where it sometimes looks good, but usually doesn't. I've been having an internal battle of whether I should suck it up and trust someone to shape it up, or just let it grow out again. I know this seems so silly, but I have some serious trust issues with hairdressers.
So what do you think?
Let it grow or cut it?
On a completely unrelated note, I'm
blogging
today over at A Boy, A Girl, and The Marine Corps.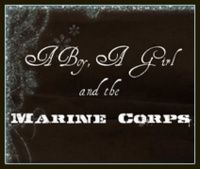 Also, have you entered the
giveaway
?
If not, you should. And while you're at it...get ready to sign up for the